Drivers Compete In 2017 Soap Box Derby
By Rick Boggess
Eight Owensboro racers were among more than 400 who competed in the 80th annual FirstEnergy All-American Soap Box Derby on July 22 in Akron, Ohio. Participants were as follows:
Rally champs
Masters: Callie and Lawson Elder
Super Stock: Hannah Salmon
Stock: Kierra Johnson, Ryan Locher and Addison Locher
Local Champs
Stock: Halee Jo McDaniel
Super Stock: Phoebe Ward
Masters: Jacob Leonard
Jacob Leonard, a 13-year-old eighth grader at College View Middle School, placed third in the World Championship Local Masters Division Race marking the fourth consecutive year an Owensboro car has had a chance to win it all. He competed against more than 40 racers from all around the US in the Local Masters Division. We were told the margin of victory was a mere 0.011 seconds! The young lady that won the Division, Malena Shipley from Georgia, has raced at our track numerous times. Jacob has been racing in the Owensboro Lions Soap Box Derby since he was eligible and has competed in all three divisions…Stock, Super Stock and Masters.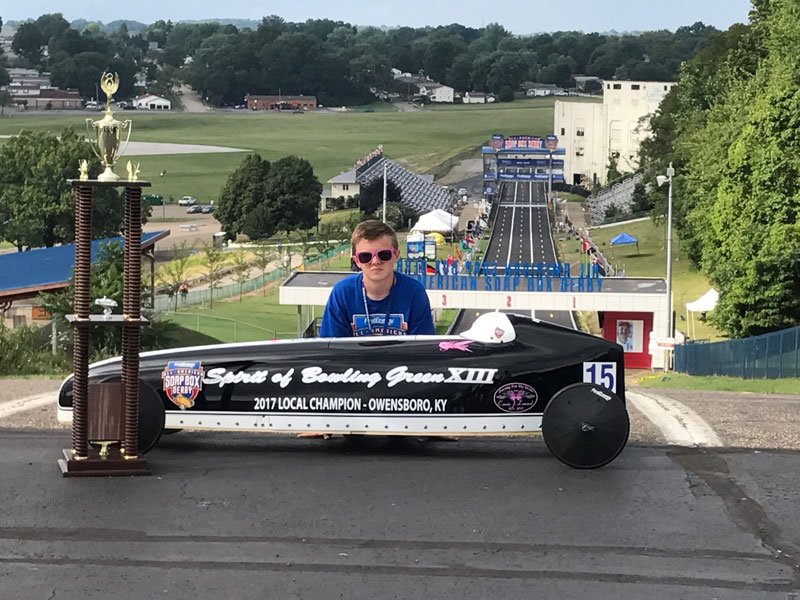 Another Local Racer, Halee Jo McDaniel, placed ninth in the Local Stock Division. It is impressive to note that six (including Jacob and Halee Jo) of the 54 racers competing for the final nine slots in the six divisions were from Kentucky.
Ethan Smith, who was sponsored by the Owensboro Lions Club, was among about 68 competitors in the National Super Kids Classic® on July 21-22 in Akron. Although he did not make the final six on Saturday, Ethan had a great time. When I texted his dad about their experience in Akron, he responded, "It was a great experience! Ethan had a great time! He is very much looking forward to next year. Hopefully he wins and gets to go again! Thank you and the Lions Club for the support in this trip."
Congratulations to each of the winners and a special thanks to all the volunteers, families and racers who have helped make the 2017 local and Rally races and open track dates a huge success! Remember, several Rally races and open track dates are scheduled for coming months. (Please see the calendar for dates.)