Five Owensboro Drivers Place
In 2021 First Energy All-American Soap Box Derby

By Rick Boggess
Ten Owensboro racers were among over 270 drivers competing in the 83rd annual FirstEnergy All-American Soap Box Derby on July 24 in Akron, Ohio. Participants were as follows:
Rally champs:
Stock: Benji Edds, Zack Gordon and Sadie Meyer
Super Stock: Halee Jo McDaniel, Addison Locher and Dawson Gordon
Masters: Ryan Locher and Jacob Leonard
Local Champs:
Stock: Brayden Locher
Super Stock: Drew Meyer
Masters: Kierra Johnson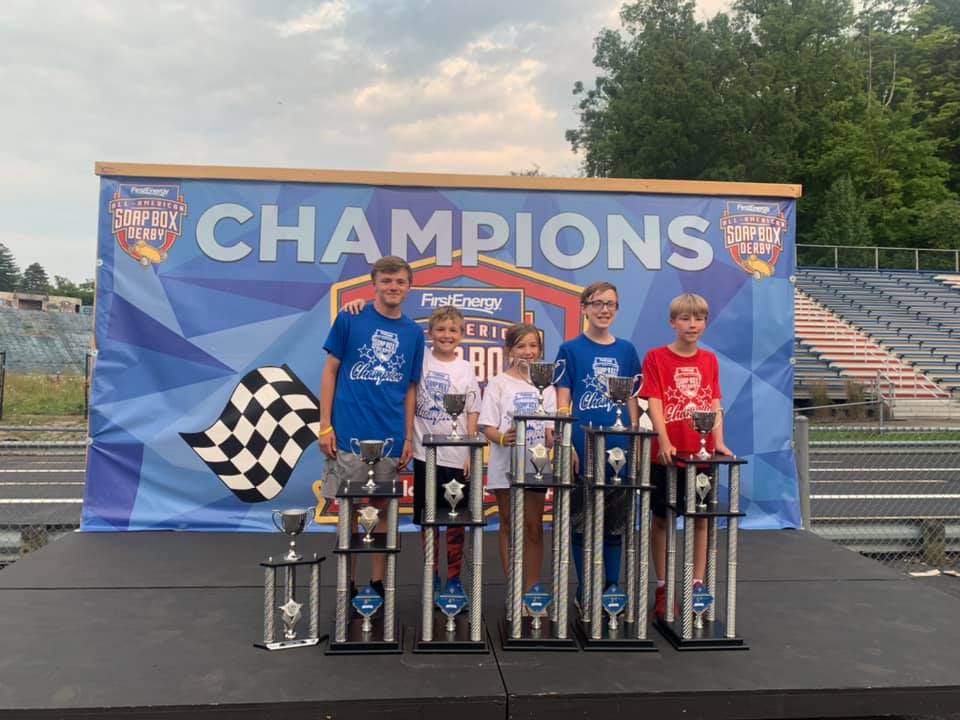 Five of the ten racers placed in the top nine in their respective divisions as follows: Local Stock, Brayden Locher, 4th place; Local Super Stock, Drew Meyer, 5th place; Rally Stock, Sadie Meyer, 2nd place; Rally Masters, Ryan Locher, 3rdplace; and Rally Masters, Jacob Leonard, 8th place.
There are lots of good drivers in Western KY which provide opportunities for stiff competition. In fact, two drivers who often compete in Rally races at our track won their respective divisions. Nathan Christian from Bowling Green won the Local Super Stock and Landon Watson from Evansville won the Rally Masters.
The annual FirstEnergy All-American Soap Box Derby is much more than the Saturday event as drivers and their families enjoy a fun filled week of competition and activities. Undoubtedly, all those who participate return home with lots of memories they will cherish for a lifetime.
Although we held our local Super Kids Race in June, the National Super Kids Classic®, normally held in conjunction with the Akron Soap Box Derby, was cancelled due to Covid concerns. Hopefully we will be able to send someone next year as we work to increase interest in the race. If you know of a family who has a Special Needs child, please encourage them to contact Rick Boggess (270-684-4418, rboggess54@gmail.com) or Mandi McCann (270-577-4640, mandi.terp@yahoo.com). to learn more about the Super Kids Race.
Congratulations to each of the winners and a special thanks to all the volunteers, families and racers who have helped make the 2021 local and Rally races and open track dates a huge success! Remember, August and September Rally races and open track dates are scheduled for coming months. (Please see the calendar for dates.)